Buick Envision Plainfield Indiana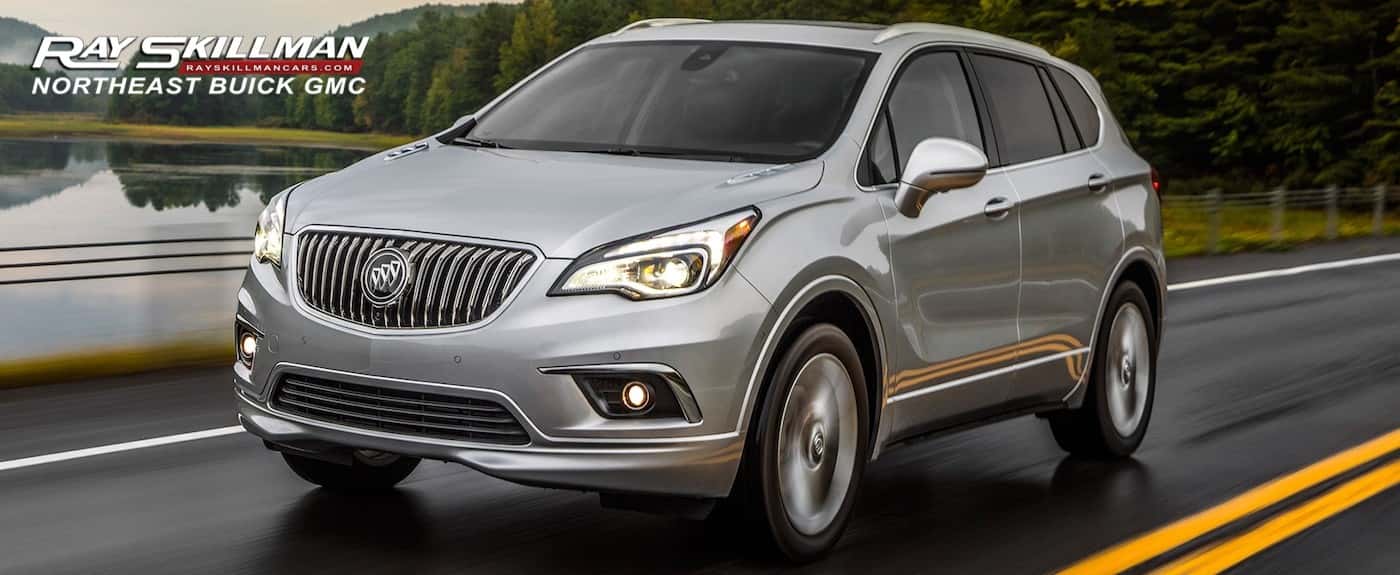 Ray Skillman Northeast Buick GMC
Can You 'Envision' Yourself In The All-New Buick Envision?
The Buick Envision is one stylish ride with luxurious accents featured both inside and out. We welcome you to take a test drive at Ray Skillman Northeast Buick GMC so you can visualize yourself in the new Envision today.
You don't want just any SUV; you want one that defines you. You need it to say look at me. You want it to exude style and luxury as you turn heads around every corner. At Ray Skillman Northeast Buick GMC, we have the one you have been waiting for. We are excited to introduce you to the stylish and elegant Buick Envision and want to give you the full tour today.
Exquisitely Crafted
When you buy a premium SUV like the Buick Envision, you expect it to come with premium materials and features too. The Buick Envision gives you more bang for your buck and you will notice it the moment you set eyes on this exquisite SUV. At first glance, you will notice the stunning lines and chrome accents of the Envision, as well as the signature waterfall grille. Step inside and be prepared to be inspired. The leather interior is paired perfectly with wood grain accents as well as brushed chrome accents to give the Envision its stylish appearance. The panoramic moonroof gives every passenger the best seat in the house. So go ahead; gaze at the stars or feel the sun on your face, the choice is yours. We want to share with you all the Envision has to offer when you visit us at Ray Skillman Northeast Buick GMC.
Entertain Them All
"Are we there yet? Are we there yet?" If you are like me, you have heard this phrase one too many times, and it keeps coming frequently. What if I told you that you could entertain them all if you choose the Buick Envision? That's right, the Envision offers a 4G LTE Wi-Fi hotspot that allows you to connect up to 7 devices at once. Go ahead, stream until your heart's content because "Are we there yet?" is a thing of the past with the Envision. Mom and Dad will appreciate Apple CarPlay and Android Auto that allow them to call, text, stream music, get directions, and more all with the very sound of their voices. You can even get integrated navigation for real-time traffic updates so your trip will always go a little smoother. Our technology experts are standing by at Ray Skillman Northeast Buick GMC to show you these features and more.
Remember, Safety First
Protect what you love the most when you hit the road in your Buick Envision. This SUV packed with advanced safety features that are designed to help you avoid an unnecessary accident. The Side Blind Zone Alert and Rear Cross-Traffic Alert act as eyes where you can't see and will alert if there is an object in the way when you are trying to change lanes or reverse out of a space so you know when it is clear to proceed. The Surround Vision Camera gives you a 360-degree view around your vehicle so you can get a clear picture of what is going on in your surroundings. The Safety Seat Alert will vibrate if you are approaching a hazard so you can react accordingly when necessary. For a full list of safety features, come see our Envision specialists at Ray Skillman Northeast Buick.
You're Going To Love The Fantastic Selection At Ray Skillman Northeast Buick GMC
At Ray Skillman Northeast Buick, we offer a great selection of the popular Buick Envision for you to pick from. We have a great allotment right now so you won't have to go anywhere else to find the perfect Envision with the options and colors you want. We have low every day low prices so you know you will get a great deal every time. Browse our inventory online, and then come in for a test drive. If you want to save yourself more time, get pre-approved for financing and don't worry if you have bruised credit because we offer our Buy Here, Pay Here financing option to help you out. Come by to get started today.
We take pride in making certain our staff delivers the most pleasant vehicle-buying experience, period. We're not like most dealers that look at every transaction as a sale. Our goal is to truly partner with our customers to establish an ongoing relationship in ownership. When you buy your new Envision from Ray Skillman Northeast Buick GMC, you're buying your own personal service crew that will keep you on the road and up-to-date for years to come.

New Envision Plainfield
Ray Skillman Northeast Buick GMC has the perfect new Envision model for you. Find it right here, along with unparalleled value.

Pre-Owned Buick Plainfield
A premium lineup of vehicles like Buick is always in high demand. That's why we also carry an exciting selection of pre-owned models from which to choose.

Incentives and Rebates
Why not enjoy your Envision along with the Ray Skillman Northeast Buick GMC discount? You can have your cake and eat it, too.
Experience the Ray Skillman Northeast Buick GMC Difference
Buying a vehicle is a special experience, and we strive to make it that way each and every time we welcome you to our dealership. We understand that this isn't something our customers do every day, which is why we treat every interaction with the respect and patience that it deserves. Ray Skillman has served the Plainfield-area market for decades because we believe that the community and its people supersede any expectations set by a corporation. This is your community. This is our community. When you are shopping for a new or used vehicle like the Envision, you expect the experience to match the promise, which is why we are open and transparent every step of the way. We employ non-commissioned Product Specialists to assist you in finding the perfect vehicle. Their primary objective is to put you in a vehicle that suits your needs, as well as your personal style. They are highly trained in the technology and specifications of our vehicles, not on high-pressured sales tactics. This unique approach, along with our continued commitment to excellent customer service, sets us apart from mainstream dealerships.
Below, you will find more information about the new Envision. We hope that you'll contact us, and allow us the opportunity to show you why buying from the team at Ray Skillman Northeast Buick GMC is simply the easiest and best decision you can make when shopping for your next vehicle.
Ray Skillman Buick Envision
There's more to a vehicle demonstration than picking out colors and taking a test drive. At Ray Skillman Northeast Buick GMC, we want you to know everything that's important to YOU in your next new car. The Envision is uniquely positioned in the Plainfield market to satisfy the needs of drivers everywhere. The Envision has the proper mixture of strong performance and advanced versatility that's appealing to drivers in the Plainfield area. Our team is here to make sure you're aware of every feature, tip, and maintenance best practice because we take pride in delivering the ultimate shopping experience for our customers. Watch this video to get your engine revving for your new Envision, and then let Ray Skillman take care of the rest
Attention to detail is important. You won't miss a thing when you shop at Ray Skillman Northeast Buick GMC.
---
We know you have many options when it comes to car dealers in the Plainfield area. Our hope is that you will give us the first opportunity to earn your business because of the tremendous experience, great pricing, exciting Envision selection, and our commitment to making your buying experience the most positive one you've ever had when shopping for a new or pre-owned vehicle. We stand behind the ideal of delivering the type of respectful engagement that the people of Plainfield deserve. If you give us the first opportunity, you'll see why our customers come back time and time again.
---
WHY RAY SKILLMAN NORTHEAST BUICK Buick?
---
Ray Skillman is Indiana's Only…
Some dealerships take pride in their sales numbers. Others point to their P&L statements to determine their success. At Ray Skillman Northeast Buick GMC, the most important indicator of whether or not we're successfully achieving our goals is when YOU are overwhelmed by our outstanding customer experience. It goes beyond satisfaction. We want you to be ecstatic with the way you were treated and impressed with how easy it was to get the best deal in Indiana. Your opinion is the one that matters to us at Ray Skillman Northeast Buick GMC. It's what drives our success.
---
Customers Come First
See What Our Customers Are Saying
---
---
Your Buick GMC Shopping Experience
We hope we've answered most of your questions about why you should consider Ray Skillman Northeast Buick GMC as your first choice when shopping for a new or pre-owned Buick or Buick model. If you are ready to learn more, please contact us through your preferred method of communication and ask us anything you'd like to know. If you're ready to schedule your test drive, please use the form below. At Ray Skillman Northeast Buick GMC, you control your shopping experience. We're here to help facilitate and to be your personal automotive experts.