GMC Acadia Indianapolis Indiana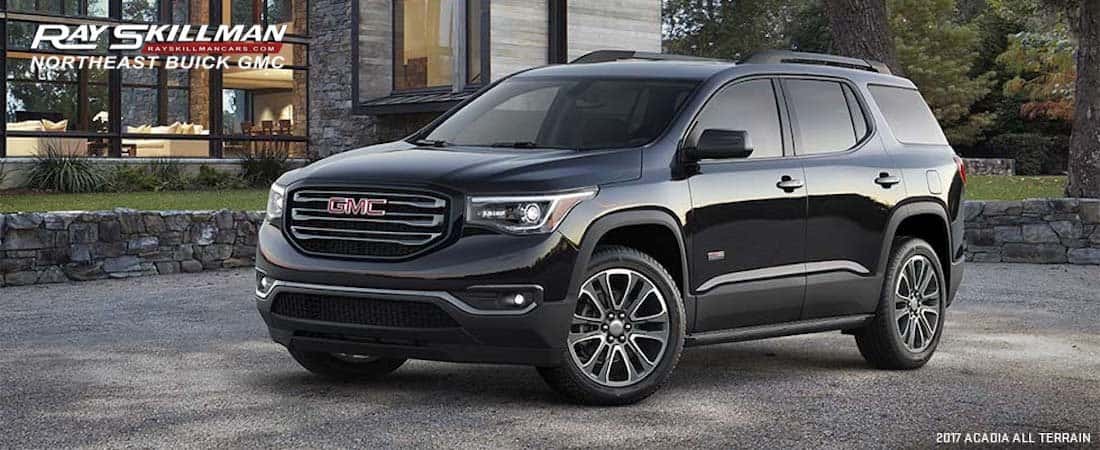 Ray Skillman Northeast Buick GMC
Get Ready For A Better Crossover with the All-New GMC Acadia
The GMC Acadia offers full-size SUV functionality in a midsize crossover SUV. It is full of everything you need to complete your mission impossible around Indianapolis. Come down to Ray Skillman Northeast Buick GMC and take a look at the amazing new Acadia firsthand.
When you demand more from your crossover SUV, you need the GMC Acadia. It not only offers bold styling that turns heads around every corner, it has luxury accents around every curve. The Acadia is packed with technology designed to improve your lifestyle and features options that will give you comfort and convenience where you need it. Come see the Acadia at Ray Skillman Northeast Buick GMC today.
Take Your Little Ones Along
When you have kids like many of our customers do, you need flexibility and functionality that accommodates your life to not only make it convenient but comfortable as well. The GMC Acadia was designed with families like yours in mind. Not only is it roomy enough to fit most standard car seats on the market today, it is comfortable enough for your older children too. Many families are adding little ones to their crew after their older children are teens; the Acadia is versatile enough to handle both. The Acadia even offers easy access to the 3rd row so there is no need to climb over the seats. Older kids will love that they can charge their smart devices with one of the 5 USB ports so they can keep tweeting while on the go. Bring your strollers, playpens, and baby gear as well as the suitcases, because the cargo room behind the 3rd row is big enough to handle it all, and when you need a little extra room, simply lower the 3rd row for more space. See the Acadia's versatility at Ray Skillman Northeast Buick.
Dominate the Carpool Lane
Are you like one of our many customers that use your ride to handle carpool drop off and pickup for school and sports? The GMC Acadia can help you dominate carpool and handle it like a boss. Stay connected and updated on who needs a ride with Android Auto and Apple CarPlay. These features can help you send text messages as well as respond to see who will be on time, or who is out ill. You can also schedule your next carpool date in your calendar, get directions to the next house and more with these features because you can use your voice to do it all, so you never miss a beat. Keep the kids entertained with their favorite tunes thanks to SiriusXM Satellite Radio and Pandora so there will be less whining and more singing. These tools can really save your sanity and make your life easier as you take your turn as the carpool commander. Stop by Ray Skillman Northeast Buick GMC and see how you can dominate the carpool lane.
Keep Everyone Safe
When you have your precious cargo in tote, you need assurances that you have a safe vehicle for them to ride in. The GMC Acadia was designed to help you keep your focus where it belongs, on the road so you can keep your little ones safe. Change lanes with confidence thanks to the Side Blind Zone Alert that lets you know when your blind spot is clear. Rear Cross-Traffic Alert lets you know when it is safe to back out of your parking spot and the Rear Vision Camera gives you a bird's eye-view of the space behind you so you know it's clear. The available Teen Driver Mode gives you a tool to help keep an eye on your new teen driver so you know that they are driving your Acadia safely. You can modify and limit functions as well as get a report card. For more information on this feature stop by and talk to one of our product specialists.
Your Acadia Awaits You at Ray Skillman Northeast Buick GMC
Ray Skillman Northeast Buick GMC has your Acadia waiting for you. We keep a strong inventory for you to choose from so you can find your dream Acadia in the color you want with the options you desire. With our Buy Here, Pay Here program, we even offer in house financing for those who may be credit challenged. We believe everyone deserves a second chance and we know that job loss, medical injury, and illness can cost some their good credit. Fill out our online credit app for pre-approval, and then come see us to take a test drive in the Acadia of your choice. We look forward to serving you and earning your business.
We take pride in making certain our staff delivers the most pleasant vehicle-buying experience, period. We're not like most dealers that look at every transaction as a sale. Our goal is to truly partner with our customers to establish an ongoing relationship in ownership. When you buy your new Acadia from Ray Skillman Northeast Buick GMC, you're buying your own personal service crew that will keep you on the road and up-to-date for years to come.

New Acadia Indianapolis
Ray Skillman Northeast Buick GMC has the perfect new Acadia model for you. Find it right here, along with unparalleled value.

Pre-Owned GMC Indianapolis
A premium lineup of vehicles like GMC is always in high demand. That's why we also carry an exciting selection of pre-owned models from which to choose.

Incentives and Rebates
Why not enjoy your Acadia along with the Ray Skillman Northeast Buick GMC discount? You can have your cake and eat it, too.
Experience the Ray Skillman Northeast Buick GMC Difference
Buying a vehicle is a special experience, and we strive to make it that way each and every time we welcome you to our dealership. We understand that this isn't something our customers do every day, which is why we treat every interaction with the respect and patience that it deserves. Ray Skillman has served the Indianapolis-area market for decades because we believe that the community and its people supersede any expectations set by a corporation. This is your community. This is our community. When you are shopping for a new or used vehicle like the Acadia, you expect the experience to match the promise, which is why we are open and transparent every step of the way. We employ non-commissioned Product Specialists to assist you in finding the perfect vehicle. Their primary objective is to put you in a vehicle that suits your needs, as well as your personal style. They are highly trained in the technology and specifications of our vehicles, not on high-pressured sales tactics. This unique approach, along with our continued commitment to excellent customer service, sets us apart from mainstream dealerships.
Below, you will find more information about the new Acadia. We hope that you'll contact us, and allow us the opportunity to show you why buying from the team at Ray Skillman Northeast Buick GMC is simply the easiest and best decision you can make when shopping for your next vehicle.
Ray Skillman GMC Acadia
There's more to a vehicle demonstration than picking out colors and taking a test drive. At Ray Skillman Northeast Buick GMC, we want you to know everything that's important to YOU in your next new car. The Acadia is uniquely positioned in the Indianapolis market to satisfy the needs of drivers everywhere. The Acadia has the proper mixture of strong performance and advanced versatility that's appealing to drivers in the Indianapolis area. Our team is here to make sure you're aware of every feature, tip, and maintenance best practice because we take pride in delivering the ultimate shopping experience for our customers. Watch this video to get your engine revving for your new Acadia, and then let Ray Skillman take care of the rest
Attention to detail is important. You won't miss a thing when you shop at Ray Skillman Northeast Buick GMC.
---
We know you have many options when it comes to car dealers in the Indianapolis area. Our hope is that you will give us the first opportunity to earn your business because of the tremendous experience, great pricing, exciting Acadia selection, and our commitment to making your buying experience the most positive one you've ever had when shopping for a new or pre-owned vehicle. We stand behind the ideal of delivering the type of respectful engagement that the people of Indianapolis deserve. If you give us the first opportunity, you'll see why our customers come back time and time again.
---
WHY RAY SKILLMAN NORTHEAST BUICK GMC?
---
Ray Skillman is Indiana's Only…

Some dealerships take pride in their sales numbers. Others point to their P&L statements to determine their success. At Ray Skillman Northeast Buick GMC, the most important indicator of whether or not we're successfully achieving our goals is when YOU are overwhelmed by our outstanding customer experience. It goes beyond satisfaction. We want you to be ecstatic with the way you were treated and impressed with how easy it was to get the best deal in Indiana. Your opinion is the one that matters to us at Ray Skillman Northeast Buick GMC. It's what drives our success.
---
Customers Come First
See What Our Customers Are Saying
---
---
Your Buick GMC Shopping Experience
We hope we've answered most of your questions about why you should consider Ray Skillman Northeast Buick GMC as your first choice when shopping for a new or pre-owned Buick or GMC model. If you are ready to learn more, please contact us through your preferred method of communication and ask us anything you'd like to know. If you're ready to schedule your test drive, please use the form below. At Ray Skillman Northeast Buick GMC, you control your shopping experience. We're here to help facilitate and to be your personal automotive experts.