GMC Yukon Indianapolis IN

Ray Skillman Northeast Buick GMC
The All-New GMC Yukon – When Full Size Is Your Size
The all-new GMC Yukon is the perfect full-size SUV for all you are and all you do. The GMC factory-trained pros at Ray Skillman Northeast Buick GMC are here to put you in the driver's seat of the one and only do-it-all Yukon today.
In one day you have to take on many roles. You can't settle when it comes to your space, for passengers, equipment or pets. You also want to travel in absolute comfort. With the GMC Yukon's spacious interior offering three rows of seating and bold interior styling created from premium materials offering up inspiring capability, you have found your perfect match. At Ray Skillman Northeast Buick GMC we work tirelessly to ensure you drive every day happy. Over 30 years of service to the community have made us really good at developing relationships and accomplishing goals.
Room For More
Your GMC Yukon delivers on your need for unparalleled comfort, as well as the flexibility to accommodate passengers, cargo, or both. Get ample space for your gear with third-row fold-flat bench seats and an available power-folding option. The Segment-exclusive second-row power release fold-and-tumble/heated and cooled seats are standard on SLT. Lit storage behind articulating 8-inch-diagonal Color Touch Radio screen and a center console large enough for hanging folders or a laptop ensure plenty of tucked away storage, getting the job done while on the road. You get all this comfort and convenience in a strikingly quiet and beautifully arranged package.
Good Looks, Legendary Performance
From its confident, aerodynamic proportions to its premium accents and refined finish, your Yukon has been designed to make a powerful and lasting impression. And because it's a GMC, the Yukon lives up to its looks with superior capability, comfort, and towing capacity. The Yukon delivers the performance you demand. Thanks to an EcoTec3 V-8 engine that combines innovative new technologies with more than 50 years of GM small-block experience you are free to explore at will at your local Ray Skillman Northeast Buick GMC.
Ray Skillman Northeast Buick GMC – Working For YOU
At Ray Skillman Northeast Buick GMC we look forward to showing you each feature of the Yukon and giving you the experience you deserve. We look forward to providing you with first-class service, parts, and sales departments. Expertly trained specialists ensure every step of your purchase process is handled with care. Your visit with us at Ray Skillman Northeast will be unlike anything you have ever experienced. Browse our selection online, speak to a knowledgeable team member by calling (317) 300-2007, or visit the showroom in Indianapolis today.

New Yukon Indianapolis
Ray Skillman Northeast Buick GMC has the perfect new Yukon model for you. Find it right here, along with unparalleled value.

Pre-Owned GMC Indianapolis
A premium lineup of vehicles like GMC is always in high demand. That's why we also carry an exciting selection of pre-owned models from which to choose.

Incentives and Rebates
Why not enjoy your Yukon along with the Ray Skillman Northeast Buick GMC discount? You can have your cake and eat it, too.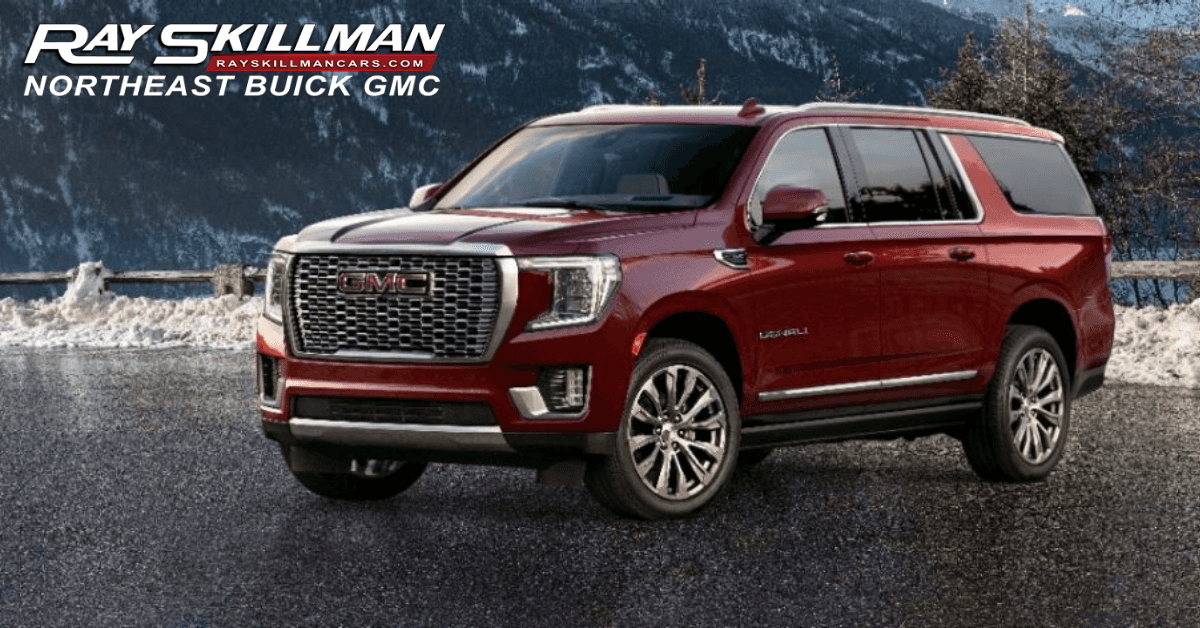 What To Expect from The 2021 GMC Yukon Denali
The GMC Yukon has been a strong contender in the SUV market. See why the 2021 GMC Yukon is still standing strong in Indianapolis.
The Yukon Reigns Supreme
GMC decided that it would go big when it redesigned the GMC Yukon Denali for 2021, and they definitely hit the mark. Just about everything about this model year is bigger than previous models, including a roomier interior and the ability to upgrade to a pickup truck engine. There is a myriad of upgrades to the GMC Yukon in Indianapolis for the 2021 model year.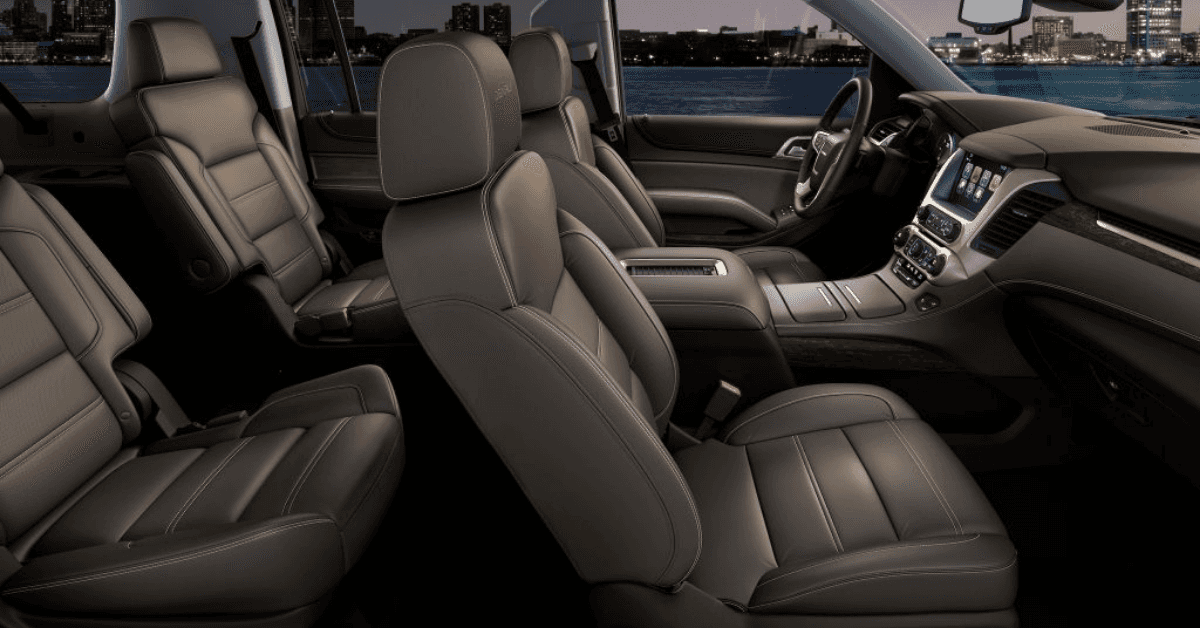 A Versatile Cabin
The interior of the 2021 GMC Yukon Denali offers three rows of seats. However, this year's interior is larger than the 2020 version, allowing adults to sit comfortably in the third row. The Denali features tilt-and-fold mechanisms on the captain chairs in the second row. This feature makes it very easy for adults to climb in and out of the vehicle from the third row.
Are you interested in learning more about the 2021 GMC Yukon Denali? If so, it's time to visit Ray Skillman Northeast Buick GMC to take a GMC Yukon in Indianapolis for a test drive. Find out exactly why this year's model is by far the best yet.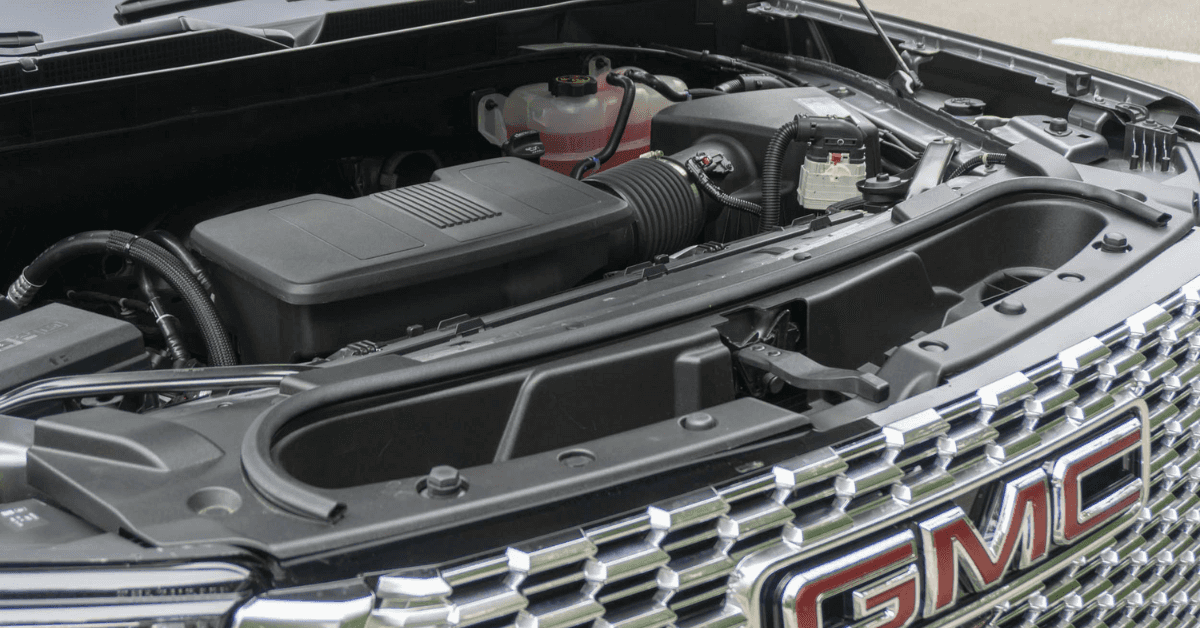 Impressive Acceleration
You can choose between three different engines when looking at the 2021 GMC Yukon Denali. The available engines include:
Standard 5.3-liter V-8
Optional turbo-diesel 3.0-liter inline-six-cylinder
6.2-liter V-8
The best engine option for your Denali is the 6.2-liter V-8. It pumps out 420 horsepower and 460 pounds-feet of torque. Power is not the only reason to go with this engine. When you choose the 6.2-liter V-8 engine, you will see incredibly smooth acceleration and performs well when driving at highway speeds.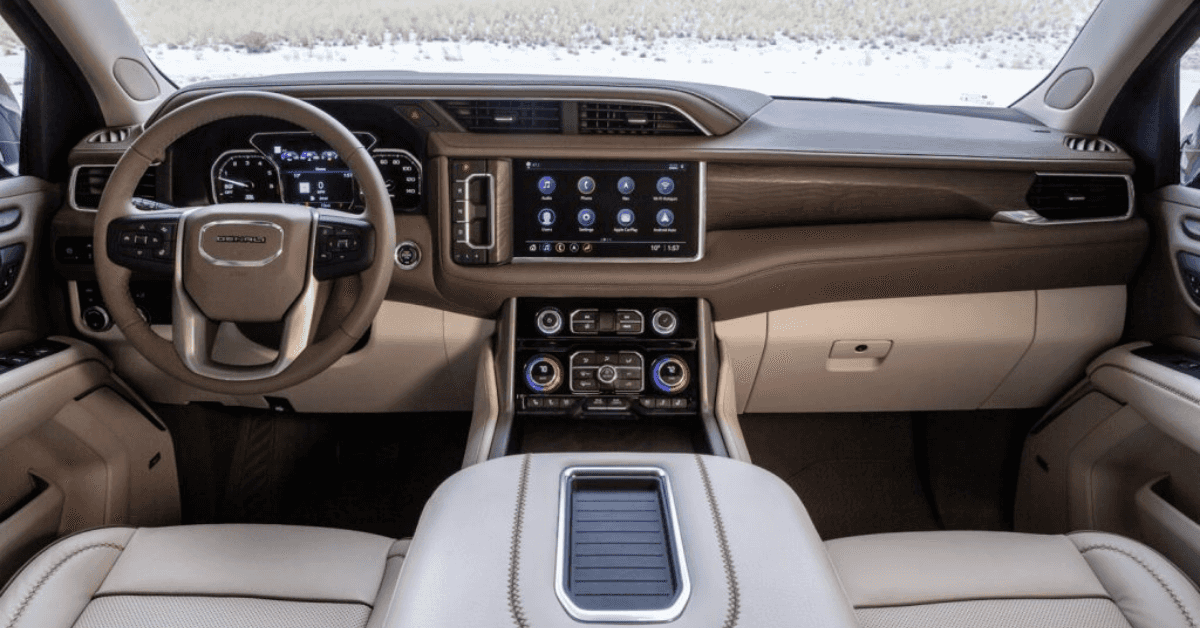 A Beautiful Interior
The 2021 GMC Yukon Denali features a beautiful interior, including a 10-inch screen for multimedia. The interior also comes with the following:
Stitched leather trim
Real metal accents
Wood veneers
High-quality buttons and switches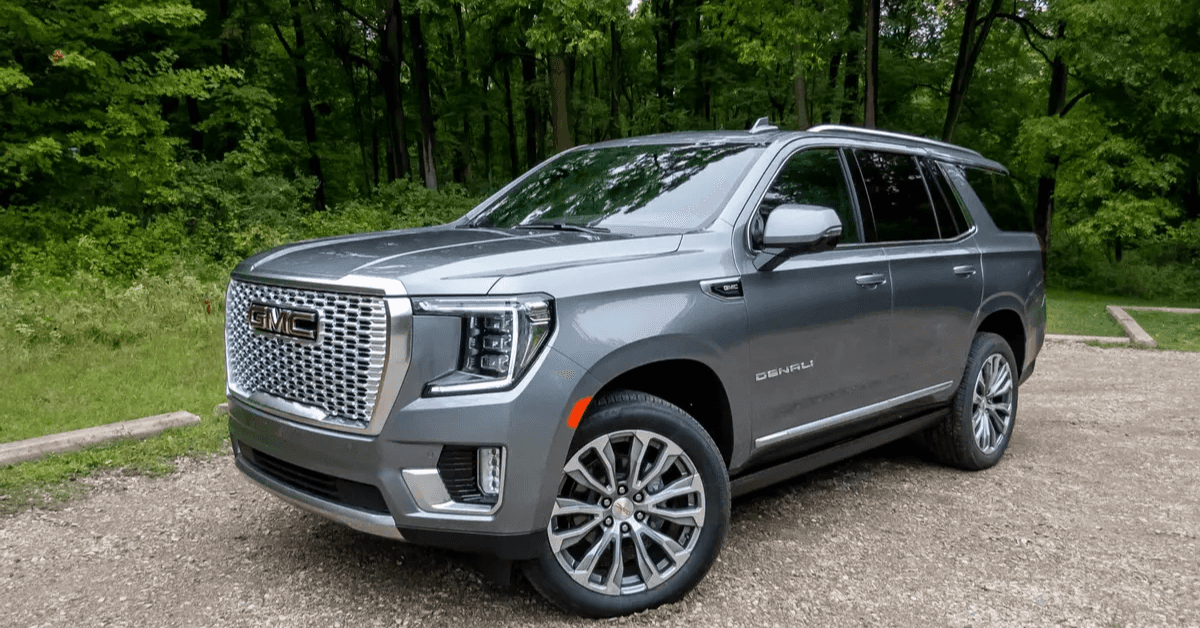 Chrome Sets The 2021 GMC Yukon Denali Apart
The chrome grille on the 2021 GMC Yukon Denali sets this SUV apart from its competition. That's not the only luxury feature that can be found on the GMC Yukon in Indianapolis, either. The daytime running lights are C-shaped and LED. If you choose the Denali Ultimate Package, you will ride home in an SUV with 22-inch aluminum wheels. The exterior design of the 2021 model helps distinguish this SUV from all the rest in its segment.
Are you ready to drive off in a 2021 GMC Yukon Denali? Ray Skillman Northeast Buck GMC has a variety of GMC Yukon in Indianapolis trim levels to test drive. Visit us today to speak with an experienced member of our sales team.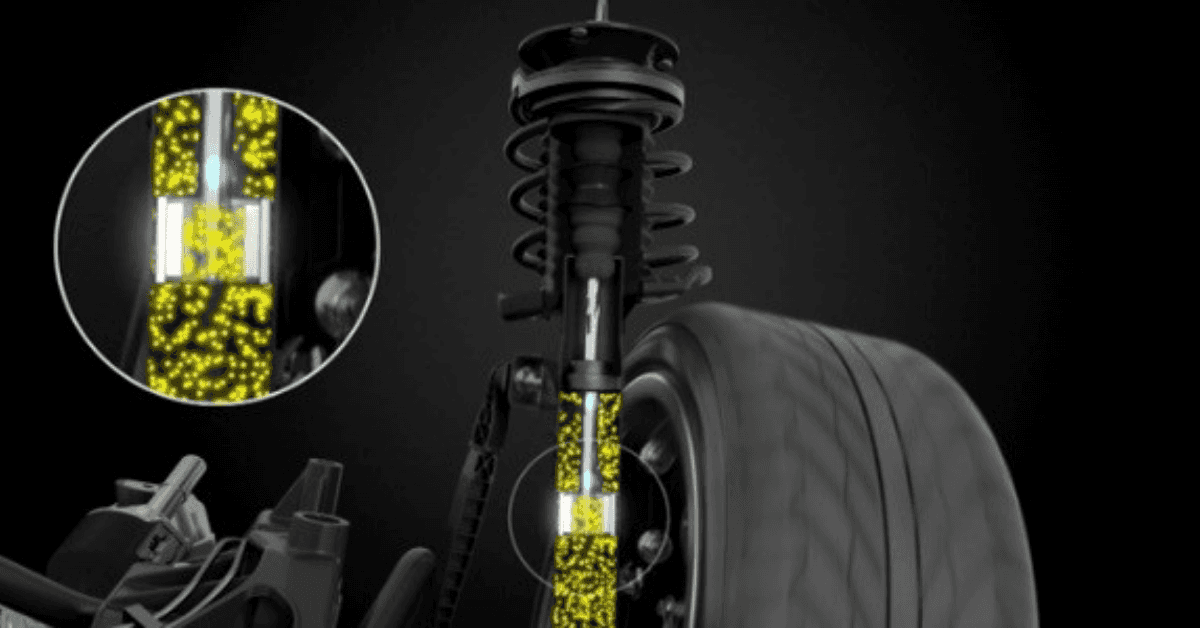 A Smooth Ride
One might think that with an SUV of this size and 22-inch wheels that the right would be bouncy. However, GMC made sure that the adaptive shock absorbers and air springs work together with the GM Magnetic Ride Control technology to provide you with a smooth ride no matter where you sit in this SUV.
Ray Skillman Northeast Buick GMC is ready to help you have a smooth car-buying experience too. Stop by and test drive the 2021 GMC Yukon before you take this beast home to be the envy of the neighborhood today!
Our team is ready to serve you and your family so you can drive home in the SUV that fits your lifestyle and your budget. Come see us today!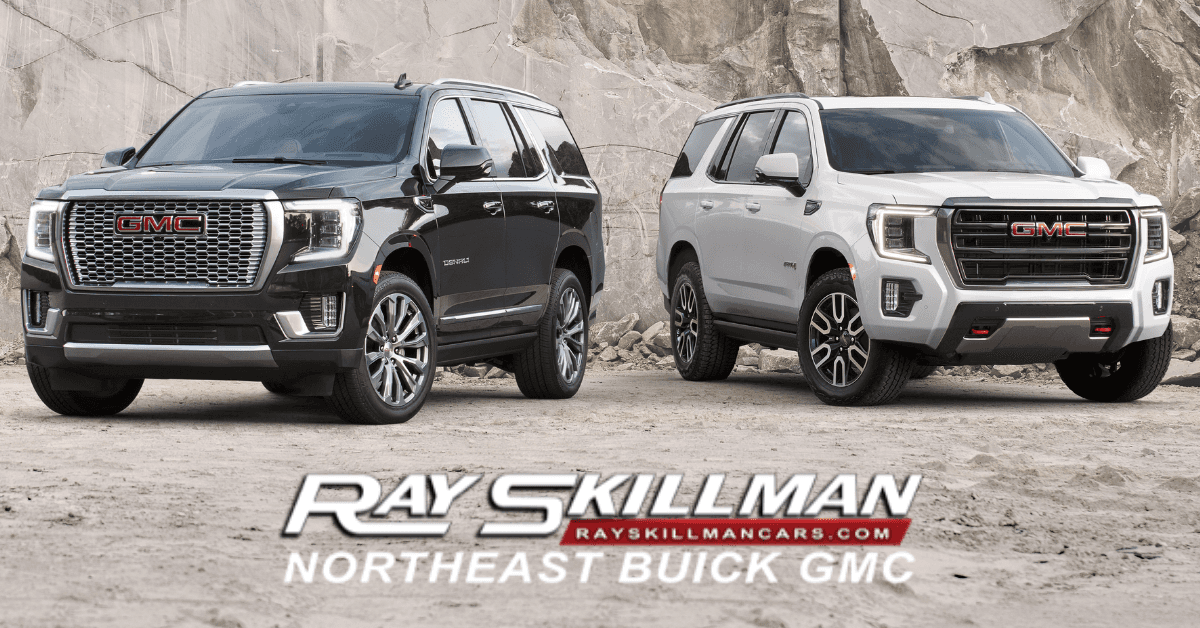 Yukon Or Yukon XL?
Now that you know there's so much to love about the Yukon, the only question is, will you choose the Yukon or the Yukon XL? What's the difference? Let's compare:
Yukon
Overall Length 210.0 in.
Cargo Volume (behind 3rd row) 25.5 cu. ft.
Third-row Leg Room 34.9 in.
Yukon XL
Overall Length 225.2 in.
Cargo Volume (behind 3rd row) 41.5 cu. ft.
Third-row Leg Room 36.7 in.
Experience the Ray Skillman Northeast Buick GMC Difference
Buying a vehicle is a special experience, and we strive to make it that way each and every time we welcome you to our dealership. We understand that this isn't something our customers do every day, which is why we treat every interaction with the respect and patience that it deserves. Ray Skillman has served the Indianapolis-area market for decades because we believe that the community and its people supersede any expectations set by a corporation. This is your community. This is our community. When you are shopping for a new or used vehicle like the Yukon, you expect the experience to match the promise, which is why we are open and transparent every step of the way. We employ non-commissioned Product Specialists to assist you in finding the perfect vehicle. Their primary objective is to put you in a vehicle that suits your needs, as well as your personal style. They are highly trained in the technology and specifications of our vehicles, not on high-pressured sales tactics. This unique approach, along with our continued commitment to excellent customer service, sets us apart from mainstream dealerships.
Below, you will find more information about the new Yukon. We hope that you'll contact us, and allow us the opportunity to show you why buying from the team at Ray Skillman Northeast Buick GMC is simply the easiest and best decision you can make when shopping for your next vehicle.
Ray Skillman GMC Yukon
There's more to a vehicle demonstration than picking out colors and taking a test drive. At Ray Skillman Northeast Buick GMC, we want you to know everything that's important to YOU in your next new car. The Yukon is uniquely positioned in the Indianapolis market to satisfy the needs of drivers everywhere. The Yukon has the proper mixture of strong performance and advanced versatility that's appealing to drivers in the Indianapolis area. Our team is here to make sure you're aware of every feature, tip, and maintenance best practice because we take pride in delivering the ultimate shopping experience for our customers. Watch this video to get your engine revving for your new Yukon, and then let Ray Skillman take care of the rest
Attention to detail is important. You won't miss a thing when you shop at Ray Skillman Northeast Buick GMC.
---
We know you have many options when it comes to car dealers in the Indianapolis area. Our hope is that you will give us the first opportunity to earn your business because of the tremendous experience, great pricing, exciting selection, and our commitment to making your buying experience the most positive one you've ever had when shopping for a new or pre-owned vehicle. We stand behind the ideal of delivering the type of respectful engagement that the people of Indianapolis deserve. If you give us the first opportunity, you'll see why our customers come back time and time again.
---
WHY RAY SKILLMAN NORTHEAST BUICK GMC?
---
Ray Skillman is Indiana's Only…

Some dealerships take pride in their sales numbers. Others point to their P&L statements to determine their success. At Ray Skillman Northeast Buick GMC, the most important indicator of whether or not we're successfully achieving our goals is when YOU are overwhelmed by our outstanding customer experience. It goes beyond satisfaction. We want you to be ecstatic with the way you were treated and impressed with how easy it was to get the best deal in Indiana. Your opinion is the one that matters to us at Ray Skillman Northeast Buick GMC. It's what drives our success.
---
Customers Come First
See What Our Customers Are Saying
---
---
Your GMC Shopping Experience
We hope we've answered most of your questions about why you should consider Ray Skillman Northeast Buick GMC as your first choice when shopping for a new or pre-owned GMC model. If you are ready to learn more, please contact us through your preferred method of communication and ask us anything you'd like to know. If you're ready to schedule your test drive, please use the form below. At Ray Skillman Northeast Buick GMC, you control your shopping experience. We're here to help facilitate and to be your personal automotive experts.